What is "virtual" consulting, and how does it work? Don't you need to see my dog?
How it works: 
We meet for a 1-hour Zoom consultation where I will assess the case and create a management and training plan specific to your goals. 
I provide a month of coaching to keep you on track with customized training plans. 
We'll meet halfway through the month for a Zoom call to ensure you're on the right track. 
You receive unlimited voice messages, video assessments and email support 
I'll support you every step of the way. 
Your training plans will consist of 10-15 minutes, five days a week. 
It can seem intimidating and stressful to get going, and often, the idea of in-person help might feel better because it is our traditional approach.  However, online consulting and coaching is becoming the go-to for many behaviours, and I've been successfully working with clients this way for two years.  Especially in the case of fear, aggression, reactivity and separation anxiety, virtual consulting is the new industry standard and considered best practice by leading experts.  

I don't need to see the behaviours to understand them, and I consider it unethical to cause a dog to react in the name of training. 
With my monthly packages, you only need to devote 10-15 minutes daily to training, five days a week.  We'll track your progress, and I'll make adjustments if needed, keeping you moving toward your goal!
"The best thing you can do for yourself and your dog is to contact her. Our lives are literally changed for the better!" -Melissa W.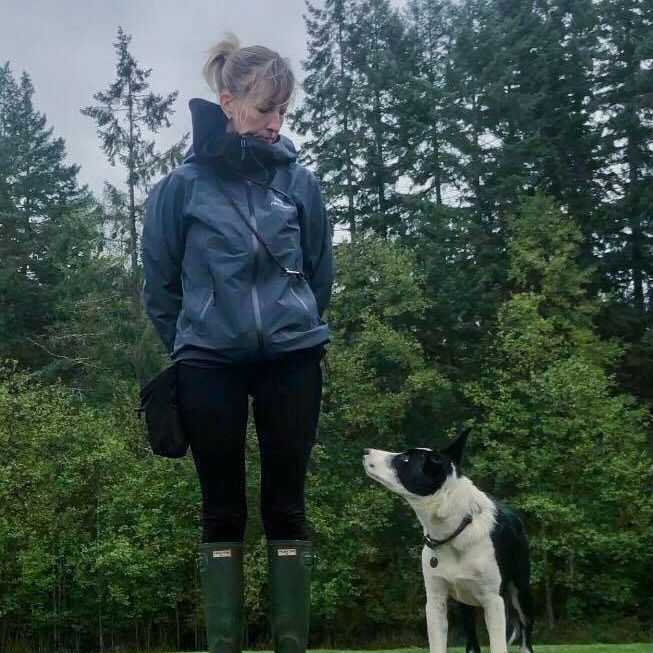 Emily Priestley, CTC, CDBC, SAPT
Emily is a multi-certified dog trainer, having graduated from the renowned Academy for Dog Trainers and is a Certified Dog Behaviour Consultant through the IAABC. Based in the Comox Valley on Vancouver Island, she has been working with and handling dogs professionally for over a decade.

Emily specializes in working with herding breed dogs struggling in pet homes. Over a century of selective breeding for working stock, as well as a rise in popularity, has led to many guardians struggling with their herders in urban settings. Emily's experience with all breeds and behaviours, as well as her passion for herding breeds, makes her an ideal choice for you to gain understanding, get breed-specific guidance and insight and help with your dog. Emily is an industry expert and can help you with your border collie, cattle dog, shepherd, Australian Shepherd and many more!

Emily specializes in reactivity and compulsive disorders but is available to help with all breed challenges from misdirected herding, "spooky" and fearful behaviour to nipping, biting and everything in between.

Certified and in good standing with:
-The Academy for Dog Trainers
-Certified Dog Behaviour Consultant through the IAABC
-Michael Shikashio's Aggression in Dogs Master Course
-BC SPCA's AnimalKind program
-Julie Naismith's Separation Anxiety Trainer Program
-Certified Death Doula to assist with pet loss
Emily's long career with the BC SPCA has also allowed her to have a proven track record, having personally handled over 2,000 dogs. With experience with many breeds and all problem behaviours, Emily has worked with dogs desperately needing intervention and behaviour modification.

As well as being an Academy for Dog Trainers graduate, she is accredited by the BC SPCA's AnimalKind program. She is certified as an SA Pro to help humanely and effectively guide you and your dog to recovery from separation anxiety.
She is committed to using current, scientific and kind techniques and continuing education to ensure you're in the hands of the most advanced methods.

Emily will always provide a nonjudgmental, kind, and supportive atmosphere for dogs and their guardians. She will always be transparent about methods and techniques, allowing you to feel comfortable handing over the leash.
Because dog training is an unregulated industry, it's very important that our dogs are handled by those who are educated and accredited.  Wild at Heart is both- Emily is certified through The Academy for Dog Trainers, considered the best in the world for our industry.  She is also accredited through the BC SPCA's AnimalKind program, vetted and tested to meet high standards so you feel comfortable handing over the leash. 
At Wild at Heart, we're committed to being 100% transparent, non-aversive and current on techniques.  We promise never to hurt, scare, punish or intimidate you or your dog- something that "old school" dog trainers want you to think is part of "balanced training".  Emily will use scientifically proven methods and will engage your dog and work with him to get more of the behaviours you want and less of those you don't.    
Flooding, dominating, shocking, physically correcting and punishing your dog is not what any of us want and we promise to get results without the use of these techniques and tools.  We feel so strongly about this, you'll receive 15% off your initial service if you trade in your shock collar, bark collar, prong collar or electric fence.    
If at any point you're uncomfortable about a trainer, a technique, a method or a tool, you have the right to ask for the leash back.  At Wild at Heart, we are committed to doing no harm, but as this profession is unregulated, anyone can call themselves a trainer, behaviourist, whisperer or dog psychologist.  For that reason, ask questions, feel comfortable with the answers and feel free to ask for clarification on how techniques will be done and why they work.  If you're ever uncomfortable or the trainer you're working with can't answer your questions, don't walk, run!